Zombi Blood I
Miko Kunsaki was never normal, usually depressed, and made fun of, she had accepted this. But she never thought that she was this un-normal! On the same day that her one true friend, Sam, is killed by evil Zombies, Miko is saved by a strange man who claims that she is special and can work magic. Now her adventure starts...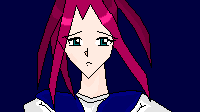 "Sam! Oh god, Sam, wake up... oh god..."
Zombi Blood II
The second part to the ZB series; in this the mysterious man known only as Keiran offers his help to Miko, and surprises her by seeming to understand her and have experienced what she's gone through. He offers her a home and an explanation of all that's going on... but can he really be trusted? If so, will Miko trust him, after all she's been put through? Where will he take her? And who is the dark lord, Warui?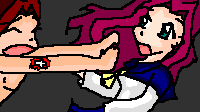 "Agh!"