Wilson Loses His Mojo (a House M.D. fanfic)
Dr. James Wilson, oncologist and resident nice guy at Princeton-Plainsboro Teaching Hospital, goes out for drinks with his best friend, Dr. Gregory House. The evening ends in a drunken prank or two... and Wilson suffers the consequences of attempting to out-prank his friend.

This is an entry in the June '09 48 Hour Fanfic Challenge over at the Kamishibai Forum.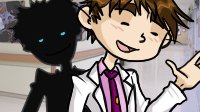 "He had one workplace flaw. And it's a big one."