We Know Where You Sleep
As ships hover above the city, a strange spectacle takes place. For the members of an elite group the time for world conquest is at hand. But first they have to tie up some loose ends.

This is a songfic created for 2009 48 hour fanfic Kamishibai Forum challenge.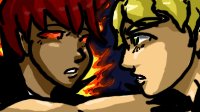 "Close your eyes, mi amor."