We All Float On/Valencia My Love
In the distant future, mankind has been reduced to a population number in the tens of thousands. Laws in place to protect cultural and species purity abound and xenophilia is illegal. Valencia, daughter of an important political family, however, loves an alien named Malaak and marries without her family's consent...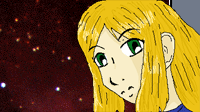 "I don't want any of the human boys."