A Walk in the Forest
This is a tale of the FunnyHeads in their picnic in the forest and what happens when they get (predictably enough) lost! You'll never guess who they meet in the small house in the forest! But this one's different because of the lasers! Excellent use of sound effects and spot music.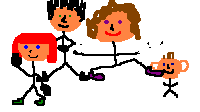 "What a wonderful idea!"