The Trouble with Banshees..
What do a haunted house, interdimensional travel, two princesses, one prince, and two young women hard up for money have in common? A surprising amount, really! Follow the adventures of Anya Kyuukei and Umi the Carnelian as they do battle with banshees, vampires, and fickle royalty, all to meet their mortgage payment. Good musical selection too!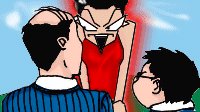 "You want me to do WHAT!?"