Shining Destiny: The Great Adventure
The scene takes place ten years after the story of Shining In The Night. You are once again Anthony and have to guide him through another rpg, but that's not all! You are given another character to play as well. His name is Chewy, a raccoon and he is going to help you fight against Tauros. Play two different perspectives or only one character. Can you guide these heros to their Destiny?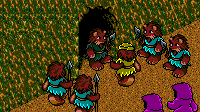 Chewy, a little cute raccoon. He is quick and easy to use.