The SD Adventures of Chaos Lady!
This is a cosmic tale of Softbeat and her role in the conflict between Order and Chaos. Find out how love can transcend the very balance of the universe and why Earth is always getting picked on. This is part 1 of a series.

9/19/1998: The rest of this series is on hold due to writer's block (so says the author). Send any suggestions to Sailor Dragon.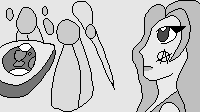 It's just too darn nice to live!