A Bed Time Story for Rini of Time Past
Rini has a nightmare when Neo-Queen Serenity and Endymion are on their way out for a night alone. Queen Jupiter offers to tell her a story till she falls asleep. So our story begins with Lita telling Rini of adventures on planet Jupiter....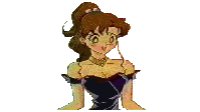 "I'll tell her a story to calm her nerves..."