Mission: Rescue the world
This is the story of Tim who must go back in time to stop Chaos's captain and prevent the world from being destroyed in a devastating war. Unfortunately, Tim doesn't know who Chaos's captain is. There are multiple endings to this story two of which are good!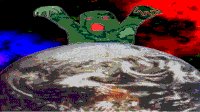 "I rule this world!"