Pastel Defender Heliotrope
This is the story of Heliotrope, an automaton who finds love and happiness amidst the horror wrought by the deranged Chartreuse. Jennifer has come up with a compelling story that even becomes a game at one point! This is something I didn't think Kamishibai could do and she did it. Includes some wonderful sound effects created by Jennifer and an excellent musical score.

Be sure to check out Jennifer's web comic for Pastel Defender Heliotrope at http://jenniverse.com/pastel/.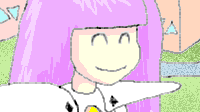 "I just want to be loved!"