Kawaii Hoshoga
Iiiii'mmmm baaaaack! (and Hikaru: sheeeeee's neeeeeew!) In Kawaii Hoshoga, three girls join to save the anarchist world by serving heaps of justice to those who deserve it. Totally pointless, but it is the consequence that matters, or the adventures that take place on the way...More fun than serious. In fact, not serious AT ALL. But it's better that way.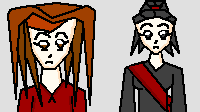 " Argh! NOT the puppy-eyed look! No way, I'm not even gonna... Please stop that!"
Kawaii Hoshoga: Episode 2
This kamishibai shows the importance of learning about other cultures. Never ever be culturally ignorant! Ever!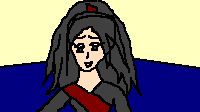 "Hahaha, this is such a good, um, ta-lo-va-song sho-wa..."