Kasper Reads Dark Poetry
16 dark and depressing poems from Kasper, the goth girl. WARNING: contains tons of references to suicide, violence, murder,and bad spelling! (obviously goths don't have time to correct their errors!) Very disturbing! This is my biggest kamishibai ever!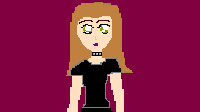 "Work is what you have to do
A mandate in life for me and you"