Kamishibai Nihon-go, Lesson 1
Inspired by the kamishibai "Chibi-usa Teaches Basic Japanese," this instructional series will give you all the basics for the Japanese language itself, starring your favorite Kamishibai characters. In this first lesson, you will learn how to introduce yourself and others in Japanese.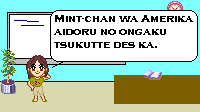 "Are you a musician from the "American Idol Mysteries" series?"