The Heroic Legend of Mad Monkey Kung-Fu!
This is a wonderfully irreverent look at the creation of the Mad Monkey Kung Fu technique featuring a monkey, a Buddhi-- uh, Shaolin temple, Buddha himself, and Rasputin! "Rasputin!?" Well, he is a monk after all! Lots of music, action, and some great sound bites!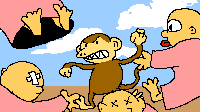 "I'm mad, I'm a monkey, and I know Kung Fu!"