Head-Z
In this installment, a lone head takes out an entire city and escapes, only to find he has lost his identity! Will he survive to find it? Find out and download now.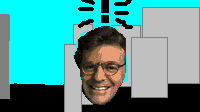 Something rustled in the very small buildings next to the head!
Head-Z 2
Yo yo yo.... it's kyne da homie wit' annuda wacky-ass flick 'bout dat cray-zee head man.... contains lots of gore though so be warned ( he he he he). anyway, the newest episode in the series of Head-Z features that crazy head and his trusty gun. He also has some more tricks up his sleeve... not that he has an arm.... but anyway, just download and see for yerself, ya big squeegee mop.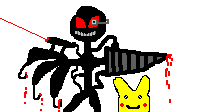 Ash Katchem's evil robot endoskeleton...