FF7 - Reunion : Part 1
What happened after the Lifestream finally stopped the Meteor? What happened after the end? Well, this is what this story is about - every ending is also a beginning! Continuing the original storyline in a most unexpected and insane way possible, the FF7- Reunion is here full of humor, action and sudden twists of plot. The Planet is not safe yet and it's our heroes duty to protect it from both old and new threats...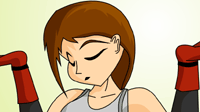 "...and killing off Aeris just like that, he COULD at least put up a good fight!"
FF7 - Reunion : Part 2
Continuing the twisted plot of the first part - Cloud confesses his true feelings for Tifa, settles his score with Sephiroth and.... where the heck is Cait Sith?! More action, more humor, more intrigue, more twisted Final Fantasy!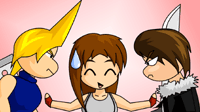 "Hey, guys! Cool down! It's not a thing to argue over, both of your weapons are big and sharp."