Fallout Girl Screening
The pilot for a comedy about a super heroine who gets her own talk show! Of course that's all after she's forced to retire due to her being radioactive. Random chaos insues. Included are 4 pages of the comic "Kiosk Girl" also extremely hilarious!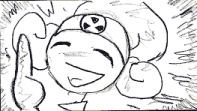 "This is Fallout Girl, falling out!"