Dragonball Super Z: Walk This World
This is a piece of fan fiction that takes place after the Dragon Ball Super Z series. This is good stuff! Bulma is in her lab when an old enemy shows up and promptly asks for help. Bulma's son, Trunks, returns and can barely be restrained from killing this former enemy. And that's when the action starts to get really intense!

This kamishibai is actually a (somewhat) shortened version of a full-length (all text) story by the same name, written by Juuhachi-gou and MiraiBulma. This story, and several others, can be found at Dragon Ball FanFiction. I encourage all Dragon Ball Z fans to check it out!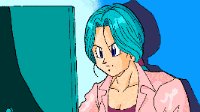 "Check this web site!"