Dave's Madness
Dave 13 has created a neatly illust -- well, let Dave 13 tell you about it: "Dave's Madness is a heart warming story of triumph and a brief walk in the city that will move the hearts of all who read it. In this story you follow the journey of Dave 13 through the harsh, untamed streets of a stereotypical city full of anime characters making cameo appearances. Cheer as he kicks some ass. Laugh as he runs away. Marvel at the fantastic surprise ending!" What more is there to say?
"And I thought 'taking a walk' was supposed to be good for you!"
Dave's Madness 2: The Seven Eyes of Gizbuf
Dave 13 is back and "Kicking Ass" with some of the most amazing special effects in a Kamishibai (that's why it's so big)! Dave 13 trashes sucky anime characters and gets a little help from Mr. Magic Mouse! Weird stuff from the mind of Dave 13!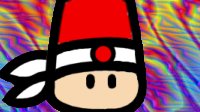 "I want some ass to kick!"