Chris MAniacal: A space Tragedy
Ever wonder (or not) what happened to Chris MAniacal after the Scott the Skeet series? Find out what happens as he comes across a mysterious exiled space crew who offer him shelter. Will his true evil colors show to these humble helpers? Or will he actually change into a better guy? Find out in the beginning of an amazing new series!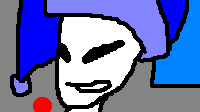 "Uhhh... Well... Ya see... It's like this..."