Captain Jack and the Meteor-Lily Part 1
Join Captain Jack on an adventure to save the woman he loves! He'll cross paths with space pirates, gay robots, and space bunny comics, all on the way to retrieve the Meteor-lily, the one thing that can save his girlfriend Maya. But can Jack make it in time? What evil awaits him on his new quest?

Contains full voice-acting for every character!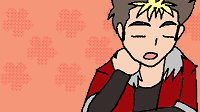 "My girlfriend is poisoned, my robot is smart, my ship's gone, and i'm broke."
Captain Jack and the Meteor-Lily Part 2
Jack has finally made it to the valley of the meteor-lily... but it's here that he meets his greatest villian yet. Can Jack defeat this new evil and save Maya once and for all? Will Patrick be reunited with the new 61 boys? And what has become of Jack's comic collection? All anwsers revealed in the final part of Captain Jack and the Meteor-Lily!

This Kamishibai features Full Voice-acting!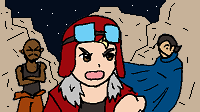 "Enough with the big words. Just give me the flower or I'm gonna scratch and bite you like a little girl."