Sometimes Does Not Mean Always and Forever
Will life always stay the same? And if it doesn't does it get better or worse as time goes on? This kamishibai implicitly asks those questions. However, does it answer them as well?

An entry in the 2009 "Worth the Risqué" Kamishibai forum challenge.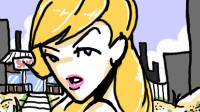 "It's too late for that now Teddy..."