Blobs Quest - Starring: Xeno
This is the tale of Xeno, the superhero slime who protects his village of fellow slime from marauding amateur adventurers. Follow Xeno through the forest maze to the mountain where Bob is going to eat the girl slime, Gled! Choose your attacks with care or you will wind up as a slimy smear on the ground!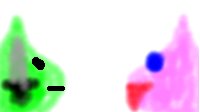 "There's good eatin' on one of those!"