The art of doing a truely bad kami
Once upon a sleepless night, Toni decided to show you how bad Kamis are made. But not just ordinary bad kamis. I'm talking about stories this bad that they can only have been done like this on purpose...

Because Stephen Lepisto considers this such an important tutorial for all Kamishibai authors, he has made it available without a subscription. If your are a subscriber, be sure to vote for Toni's tutorial.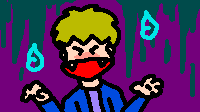 "What I want to talk about is the art of doing an incredibly terrible kami, one that is so utterly bad and beyond help..."