Alien Diary - Why humans are weirdos
One day an alien came to earth. His mission: to study human behavior. And so he started a diary in witch he writes down his observations -- and comes to some rather strange conclusions.

A short Kamishibai from a sleepless night.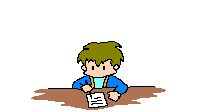 "Whenever you were sick and went to a doctor, he or she'd try anything to get your blood."