from Nihon Falcom Co
From Ys. Girl gives magic to boy, boy uses magic, other girl helps boy clean up after himself. Nicely done anime artwork.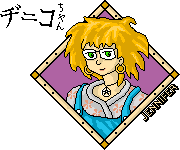 Note: this screen saver requires WINNLS.DLL and IMM.DLL from an asian version of Windows 95 to run.
Works just fine with Otaku World's WINNLS.DLL!
(self-extracting zip file, size is 76k.)
Be sure to read "How to Install Screen Savers"!
---
If a link on this page doesn't work, press here: IT'S BROKEN!! Tell us the URL of the page and let us know what is wrong.
Original art © 1996,1997 by Jennifer Diane Reitz
---