This is a screen saver featuring that extraordinarily cute Ryo-oki from Tenchi Muyo. Ryo-oki does several actions, from growing a carrot to zipping around the screen as a starship, all the while mewing in the most adorable fashion! There are three settings: top blanks the screen or uses the current one, the second option turns on and off sound, the third enables password protection.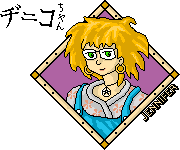 (3/14/1998: Self-extracting zip file, size is 541k.)
Be sure to read "How to Install Screen Savers"!
---
If a link on this page doesn't work, press here: IT'S BROKEN!! Tell us the URL of the page and let us know what is wrong.
Original art © 1996,1997 by Jennifer Diane Reitz
---