Evangelion's Exercise Screen Saver
Two friends, Shinji and Asuka are performing synchronization exercises and Shinji's having trouble staying in rhythm. Great soundtrack to boot! Music is the music played during the previews of the next episode.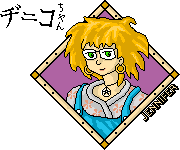 (Self-extracting zip file, size is 537k.)
(Brought to our attention by Mark Broussard)
(1/20/1998: thanks to Katsuragi Misato for the more accurate description.)
(12/10/1998: thanks to Lee Hasselbacher for the proper description of the music)
Be sure to read "How to Install Screen Savers"!
---
If a link on this page doesn't work, press here: IT'S BROKEN!! Tell us the URL of the page and let us know what is wrong.
Original art © 1996,1997 by Jennifer Diane Reitz
---