Evangelion's Famous Penguin Screen Saver
Pen-Pen the Warm-blooded Penguin. Many Pen-Pens, many Pen-Pens with temperature regulators even, leave black tracks all over your desktop. All moving to the nice, restful tune of "Barefoot in the Park".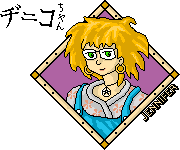 (Self-extracting zip file, size is 216k.)
(Brought to our attention by Mark Broussard)
(1/20/1998: thanks to Katsuragi Misato for the more accurate description.)
(3/2/1998: Thanks to Shinji Ikari for the name of the music)
Be sure to read "How to Install Screen Savers"!
---
If a link on this page doesn't work, press here: IT'S BROKEN!! Tell us the URL of the page and let us know what is wrong.
Original art © 1996,1997 by Jennifer Diane Reitz
---