Evangelion's Rei's Moon Screen Saver
Rei of Neon-Genesis Evangelion is in love and is on top of the moon. No, really. She is on top of the moon! Watch the moon wax and wane while Rei is eternally in love! Beautiful music sets just that right mood for love. The name of the song is "Fly Me to the Moon".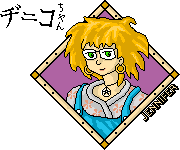 (Self-extracting zip file, size is 330k.)
(Brought to our attention by Mark Broussard)
(1/20/1998: thanks to Katsuragi Misato for the song title.)
Be sure to read "How to Install Screen Savers"!
---
If a link on this page doesn't work, press here: IT'S BROKEN!! Tell us the URL of the page and let us know what is wrong.
Original art © 1996,1997 by Jennifer Diane Reitz
---