Evangelion's Peeping Tom Screen Saver
The girls of Neon-Genesis Evangelion are a beauteous site to behold. They're even better in their underwear! This screen saver allows you to be a "peeping tom", offering tantalizing glimpses into the girls' dressing room. The music is strangely appropriate too. Mildly risque.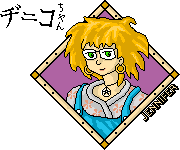 (Self-extracting zip file, size is 424k.)
(Brought to our attention by Mark Broussard)
Be sure to read "How to Install Screen Savers"!
---
If a link on this page doesn't work, press here: IT'S BROKEN!! Tell us the URL of the page and let us know what is wrong.
Original art © 1996,1997 by Jennifer Diane Reitz
---