from Motosoft
That fabulous Emi Clock from Motosoft now makes its appearance as a screen saver, complete with alarm sound effects. So now you can tell the time even when your system is idle. "Idle time", get it? heh heh. This version is in japanese.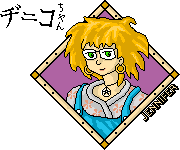 (Self-extracting zip file, size is 92k.)
Be sure to read "How to Install Screen Savers"!
---
If a link on this page doesn't work, press here: IT'S BROKEN!! Tell us the URL of the page and let us know what is wrong.
Original art © 1996,1997 by Jennifer Diane Reitz
---