from ELF
This is a collection of 16 screen savers, all from the group of programmers that call themselves ELF. A couple of these have already been featured here on Otaku World; this collection has them all. From maiden-chasing sharks to bomb-throwing jesters to joggers to blobbies merging into "peanut birds". There is even a Kissekae-style saver! Includes two .BMP images featuring some extraordinary artwork.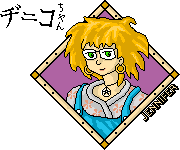 Note: some of these savers do not work under Windows NT v4.0. However, all do run under Windows 95.
Note: these screen savers requires WINNLS.DLL and IMM.DLL from an asian version of Windows 95 to run.
Works just fine with Otaku World's WINNLS.DLL!
(Self-extracting zip file, size is 1261k. Run disk1\setup.exe to install.)
(Originally discovered by Murusame)
Be sure to read "How to Install Screen Savers"!
---
If a link on this page doesn't work, press here: IT'S BROKEN!! Tell us the URL of the page and let us know what is wrong.
Original art © 1996,1997 by Jennifer Diane Reitz
---