from KOEI
This is a screen saver featuring two anime cuties who are racing to put together two puzzles. Who will win and what can the prize be? The resulting puzzles are also a sight to behold and well worth the wait! No sound or music but the images make up for it. No configuration needed (or possible). Images are from KOEI's Angelique products.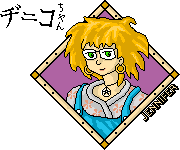 (3/14/1998: Self-extracting zip file, size is 466k. Windows 95/NT only!)
(4/3/1998: Thanks to Ice Wind for properly identifying this screen saver and its creator!)
Be sure to read "How to Install Screen Savers"!
---
If a link on this page doesn't work, press here: IT'S BROKEN!! Tell us the URL of the page and let us know what is wrong.
Original art © 1996,1997 by Jennifer Diane Reitz
---