by Leo Sutic
In this screen saver, portraits in crystal of the ever-popular Sailor Scouts are scattered on the screen, intermixed with a large rose. Very nice artwork. Also, a nice MIDI file of "Eien no Melody" ("Eternal Melody") plays in the background.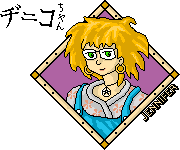 (self-extracting zip file, size is 78k.)
(6/23/1998: Thanks to Angela Healy for properly identifying the midi file (and reminding me to read the readme file next time! :-) )
Be sure to read "How to Install Screen Savers"!
---
If a link on this page doesn't work, press here: IT'S BROKEN!! Tell us the URL of the page and let us know what is wrong.
Original art © 1996,1997 by Jennifer Diane Reitz
---