from Shellshock
Ya see, Ryo-ohki is this cat-like rabbit (or rabbit-like cat) that just loves carrots. And it has this really neat ability to turn from a cute little critter into this huge star ship! No, really! In any event, if you've seen Tenchi Muyo from Pioneer (if you haven't, do so. Immediately. As in "Right now!"), then you know Ryo-ohki. This screen saver features three images of Ryo-ohki scattered over the screen: the carrot lover, a crystal form, and the star ship. Very straightfoward.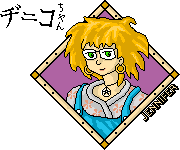 (Self-extracting zip file, size is 58k.)
(Originally discovered by Murusame)
Be sure to read "How to Install Screen Savers"!
---
If a link on this page doesn't work, press here: IT'S BROKEN!! Tell us the URL of the page and let us know what is wrong.
Original art © 1996,1997 by Jennifer Diane Reitz
---