by Joe Curzon
Another cute screen saver featuring Ryo-ohki and the ending theme music (Your Talent For Love) from the OAV series.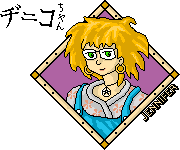 (self-extracting zip file, size is 247k.)
Be sure to read "How to Install Screen Savers"!
---
If a link on this page doesn't work, press here: IT'S BROKEN!! Tell us the URL of the page and let us know what is wrong.
Original art © 1996,1997 by Jennifer Diane Reitz
---