Shoujo Kakumei Utena Shadowplay Screen Saver
by Junji Takagi
This is simple but charming screen saver featuring the shadowplay girls of Revolutionary Girl Utena as changing shadows on your desktop.
The settings are in Japanese but simple to use (upper left: rose color - upper right: rose rotation speed; bottom checkbox: shadowplay toggle; bottom number: shadowplay speed).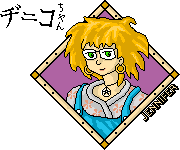 (self-extracting zip file, size is 575k.)
Be sure to read "How to Install Screen Savers"!
---
If a link on this page doesn't work, press here: IT'S BROKEN!! Tell us the URL of the page and let us know what is wrong.
Original art © 1996,1997 by Jennifer Diane Reitz
---