from Capcom
This screen saver features super-deformed animations of characters from Capcom's Pocket Fighter. Pocket Fighter features characters from Street Fighter II and DarkStalker. These characters run right to left, erasing the screen as they go.
Giniko-chan says: "If you haven't seen Pocket Fighter for the PlayStation, do so! It's worth the money!"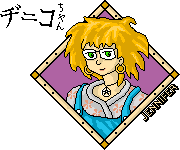 (9/7/1998: self-extracting zip file, size is 112k. Windows 95/NT only!)
Be sure to read "How to Install Screen Savers"!
---
If a link on this page doesn't work, press here: IT'S BROKEN!! Tell us the URL of the page and let us know what is wrong.
Original art © 1996,1997 by Jennifer Diane Reitz
---