from Axialis
She is pretty, she has lovely blond hair, and all she's wearing is a red ribbon! What more need I say?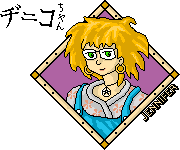 (Self-extracting zip file, size is 253k. Win95/WinNT only.)
(Originally discovered by Murusame)
Be sure to read "How to Install Screen Savers"!
---
If a link on this page doesn't work, press here: IT'S BROKEN!! Tell us the URL of the page and let us know what is wrong.
Original art © 1996,1997 by Jennifer Diane Reitz
---