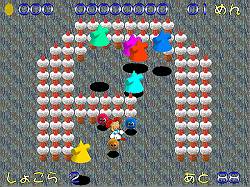 Hoppop'n
Cute girl, fuzzy slime balls, and hopping cones!
---

from Namikaze Project
This is one of those strange games that seem to only originate in Japan. It's an action game: you use the arrow keys to move around and the 'Z' or space bar to do an action (also supports joystick). Your character is a cute little girl. She has three fuzzy slime balls which are alive: one blue, one red, one yellow. The girl's job is to throw her slime balls at hopping, bouncing, moving cones. The red ball moves along the ground very slowly. The blue ball moves along the ground more quickly. The yellow ball can be thrown in an arc and will bounce all over. Once thrown, you have to go and get them. Object is to clear the level of cones. As I said, really strange. Good graphics and music. F4 toggles full-screen/window mode. F5 toggles frame rate display.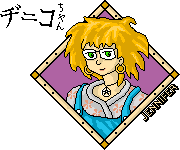 (9/7/1998: self-extracting file, size is 777k. Windows 95/NT only!)
---
If a link on this page doesn't work, press here: IT'S BROKEN!! Tell us the URL of the page and let us know what is wrong.
Original art © 1996,1997 by Jennifer Diane Reitz
---